1500 * 3000mm cantilever type CNC jet d'eau de coupe de granit tuile de découpe de la machine
Informations de base
Modèle: HEAD1530BB/HEAD42037Z
Description du produit
Spécifications jet d'eau de granit de la machine de découpe de tuiles
1.420 Mpa de haute pression
2. USA technologie
3.software compatibilité
4.CE certificat
Cher ami, très heureux que vous nous trouver ici, et bienvenue à notre famille de tête, notre produit est machine à jet d'eau de coupe s'il vous plaît suivre Notre instruction de voir comment cette machine fonctionne comme une machine de découpe de tuiles de granit. Les photos suivantes sont ce que notre machine peut couper pour vous.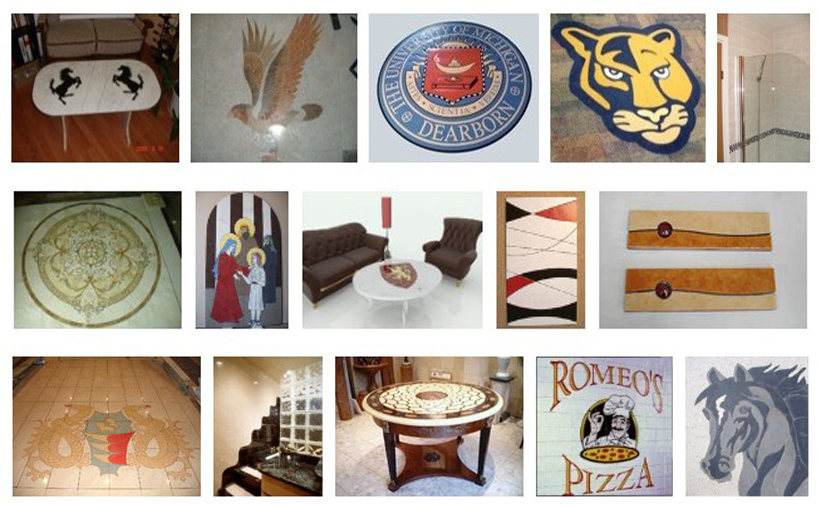 Description du produit
Main technical parameter of water jet granite tile cutting machine 

                                                                                       Intensifier Pump 

1.Pumps are imported from American Accustream company with advanced & reasonable structure and high stability.

2. Integrated heat exchanger, high heat exchange ratio and good effect, control the temperature of the hydraulic oil within the limit

3. Two-stage water filter(5um,1um,0.45um)minimizes the damage of impurities to high pressure seals, nozzles and other parts.

4.Two step-up water supply to make sure the pressure, automatic alarm and protection function when water is inadequate avoid the damage

5.Multiple filter for outlet oil and return oil, pollution alarm, oil cooling and oil temperature alarming ensure the continuous operation

6.Flexible connection between the main motor and pump eliminates eccentricity and absorbs vibration to ensure its long-term reliable operation.

7. Large capacity accumulator, assuring the system pressure much more stable, cutting efficiency much higher

 Model

HEAD42037Z

Intensifier

USA imported

Method of Direction Regulation

Electronic Direction Regulation

Max cutting pressure

420MPA

Continuous working pressure

370-390Mpa

Max oil pressure

21Mpa

Max  water discharge

3.8L/min

Max oil discharge

106L/min

Power Source

380V/50HZ

Max diameter of orifice

0.35mm

accumulator capacity

1.2L

The oil pump type

Automatic variable hydraulic pump

                                                                                            Cutting Table

 1. Separate body between cutting table and load-bearing platform prevents interfering cutting accuracy from long-term stress variation to

load-bearing platform.

 2.X beam of cutting table applies the one-off extrusion forming aluminum alloy, light weight, strong steel, not deformed, is the most advanced technology in waterjet cutting machine.

3. Cancelling dustproof cloth on X, Y, Z axis and hiding Y axis towline greatly improve the machine life and save the maintenance cost.

4. Motor and ball screw are directly connected by flexible coupling. It can absorb vibration energy reversible and with higher drive accuracy compared with other torsional rigid coupling.

5. Using high-quality international brand ball screw, linear guide transmission structure to ensure the moving speed and accuracy of the cutting head.

6. The cutting head is with casting structure and concrete structure. The metal parts have been specially processed to eliminate traces of deformation and to maintain long-term mechanical precision.

 Item

 Character

Machine type

Cantilever style

Process dimension

 1500mm*3000mm

Way of drive

 Servo drive( drives and motors are Yaskawa brand from Japan

Ball screw and linear guide

 ABBA brand from Taiwan

Z-axis travel journey

150mm

Controlling accuracy

0.01mm

Cutting accuracy

0.1mm

Re-position accuracy

0.02mm

Max traveling speed

6000mm/min

                                                                                          CNC Controller

1. Industrial control computer: high reliability, convenient man-machine dialogue, real-time control of the cutting process

2. CNC control, apply 19 inch LCD. facilitate operators to observe and reduce visual fatigue.

3.Appropriate height of operating desk, reasonable display angle, and 180-degree horizontal rotation for easy operation and viewing

4. Replace the relay with PLC, with a computer communications, flexible control

5. Professional waterjet cutting software, easy to operate , easy to learn, and practical.

6. Adapt industry wireless handle ,make the tool setting easy ,exact.

7. Support DXF file ,can use AUTOCAD to produce DXF file

8. use IPC and the professional software based on windows XP

Accessory and optional Items

Automitic Abrasive Feeder

                               Advantages

        

1. Can supply the cutting sand quantity according to the adjustable sand level location tube

2. No need electronic control, simple operation, reliable, maintenance-free

3. 200liters capacity can provide enough sand for 8 hours continuous cutting

4. Need less than 0.2Mpa compressed gas pressure,sand amount evenly, delivery smooth

5. It is the standard components of HEAD water jet

Deionization System

                               Advantages

          

1. Professional deionization system for water jet use

2. Remove the calcium and magnesium ion, can improve the useful life of HP seals, orifice

3. The outlet water amount can be 2ton/hour,can supply more than one machine

4. Simple structure and reliable sealing, reasonable design of the flow passage

5. Single tank control valve,no water pass the valve in washing

Wireless remote control handle

                               Advantages

      

1. WHB06 the wireless remote control handle special design for HEAD waterjet control system

2. It can realize wireless controlling water jet and long-distance materials processing

3. With display function,real-time display X.Y.Z axis workpiece  coordinate, mechanical coordinate,speed,step value.

4. Can set workpiece zero ,back to zero point, back to mechanical zero point,feed speed adjusting

5. Adapt high performance wireless transmission technology,frequency hopping transmission.

   Oil chiller

                              Advantages

                 

1. Professional oil chiller for water jet use

2. Main motor adapts newest imported compressor, safety in operation, high efficiency, lower noise

3. Imported brand oil pump, higher pressure, higher stability, long term durability

4. Imported digital controller,high accuracy, wide use range

5. Can control the oil temperature in any range, can work well under 45 degree surroundings.

Auto height tracking and following system

                             Advantages

        

1. For big size metal sheet which will have surface irregularity during cutting

2. Can protect the nozzle broken by collision during cutting

3. System can control the distance between cutting head and workpiece

4. Reduce the manual set tool and mistake

5. A very new update for cutting

Auto abrasive removal system

                           Advantages

          

1. Automatic desanding system is specifically designed for high-end customers.

2. Automatic desanding system can automatically deliver the mixture of sand and water in the water tank 

3. It can make maximize savings in manpower and extend the usage life for equipment

4. Keeping the least content of sand in the water tank

5. Maximum keeping the cutting environment clean.

 FAST CAM nesting software

                           Advantages

       

1. Professional optimization nesting engine with a variety of ways and means of optimizing nesting

2. Multiple formats for file of nesting, including DXF, DWG, CAM and NC.

3.Single or bulk reading or importing files for fast automatic nesting

4. Setting parts line row, list row or matrix for automatic nesting.

5. Editing the remaining plates, as well as nesting the remaining plates or irregular plates

  Update cutting solution- dynamic cutting head to protect the complete vertical cutting

1.HEAD 5-axis, simple structure, small volume,light weight,high precise

2.750w Japan YASKAWA servo,high power,high precise,fast corner speed,perfect walking curve

3.Adopt mini-type high precise Omron proximity sensor,high positioning accuracy ,fast induction

4.Newest dust proof structure design,make sure that the rotational system,slide system is inclusion-free

5.equipped with the Japan imported bearings,all these improve the using life,guarantee the motivation precise

6.Adopted the domestic most advanced water jet 5 axis cutting software,strong function and good cutting result

7.Manually adjust the angle of the cutting head,the precision is between ±6°,assure the best cutting quality in any case.

 
Images détaillées

Nous faisons attention sur chaque point de faire machine à jet d'eau parfaitement et bien.
Conditionnement & amp; livraison

Nous utilisons souvent l'emballage souple et fixer la ceinture pour charger la machine de découpage de jet d'eau, le conteneur de 20 'ou de 40' est ok pour la livraison de la mer.
Nous pouvons garantir la qualité et le performace de notre machine de découpage de jet d'eau fonctionnant comme la machine de découpage de tuile de granit
Nos services

Pour acheter une machine de découpe à jet d'eau n'est pas une finition, le service après-vente est l'étape la plus importante, nos ingénieurs ont voyagé près de 28 pays pour installer la machine et faire de la formation pour nos clients charmants.
Visite client

Nous accueillons tous les amis viennent à notre usine pour la visite, voyez notre machine, notre travail sur la machine de découpage de jet d'eau.
Fournisseur coopéré
Et la fin, merci pour les amis de nous soutenir pour faire de l'eau de jet granit tuile de coupe de la machine.
FAQ Pourquoi la machine de découpe à jet d'eau HEAD
1. Haute qualité
Les composants que nous utilisons sont des fournisseurs de haut niveau, qui peuvent garantir le fonctionnement stable et le temps d'utilisation de longue vie.
Le temps de travail sans panne de temps peut être plus de 1000 heures
Peut garantir la précision de coupe
2. Machine de marquage de fonctionnement facile
Professional cnc jet d'eau logiciel de machine à couper, pas besoin de programme de code G, vous avez seulement besoin de connaître l'utilisation de AUTOCAD
3. Nouvelle fonction de développement
Nous travaillons à développer de nouveaux produits pour mettre à jour la fonction de la machine, pendant peu de temps, nous reserch le système de chargement, système de suivi de hauteur, poignée sans fil, la tête de coupe à quatre axes.
4. Prix de pièces de rechange favorables et approvisionnement à temps.
Lorsque votre machine a besoin de pièces de rechange pour le travail, nous agirons rapidement, et guarantte la machine de travail en continu.
5. Service après vente
Équipe de service professionnel et 24 heures en ligne pour résoudre vos problèmes, donner un guide rapide et professionnel.
Trouvez-nous par:
Machine de découpe de granit
Découpeuse à jet d'eau
Découpe par jet d'eau CNC
Machine de découpe de granit
Machine de coupe d'eau
Machine de découpe de tuiles
Cnc machine de découpe de granit
Machine à carreaux
Machines à découper jet d'eau prix
Chine machine de découpe de marbre
Machine à jet d'eau prix
Machine de découpe de tuyaux de jet d'eau
De tuiles coupées
CNC machine à couper le jet d'eau prix
Machines à découper l'eau CNC
Machine à granite
Prix ​​de la machine de coupe de granit
Machine à jet d'eau prix
Machine à eau
Machine de découpage de granit de jet d'eau
Granit cnc machine
Marbre machine de coupe prix
Pierre, carreaux, découpage, machine
Machine de découpe de granit
Groupes de Produits : Machine de découpe de pierre et de marbre